Hi Mom, I'm just going to play and learn until you get here.
Oh, my other favorites are to love Red Red, play fetch and eat chewies!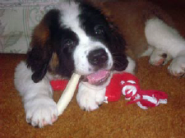 I'll be packed and ready to go to our new home :)
I'm Going To Love You To Pieces :)

Chewy :)

Deb, Thank you for taking the trip up.
We enjoyed meeting you all and the Big Dogs loved it too :)
Next time, we will get a Pizza :)


We would have loved more time playing with all the Big Dogs :)
I hope you had a safe enjoyable trip back home with your baby Chewbacca!!! Talk soon
Also, here are the Saint Bernard Gifts
and Saint Bernard Coffee Cups/ Mugs that I promised to put up :)
Here are some
Saint Bernard Gifts on this page
Saint Bernard Coffee Cups/Mug on this page
:)
If you are looking for anything that you can't find...just text me and I will try to put it up for you.
We Think About You Often....I hope You Are Feeling Better!!!
Hugs,
Jackie
989/ 460-7960
Thank you for visiting Akc Saint Bernard Puppies
http://www.akcsaintbernardpuppies.com