Akc Saint Bernard Puppies
We Are Expecting Saint Bernard Puppies November
Akc Saint Bernard Puppies
Pet, Show or a Saint Bernard pup for Breeding, please let me know what plans you have :)
Akc Saint Bernard Puppies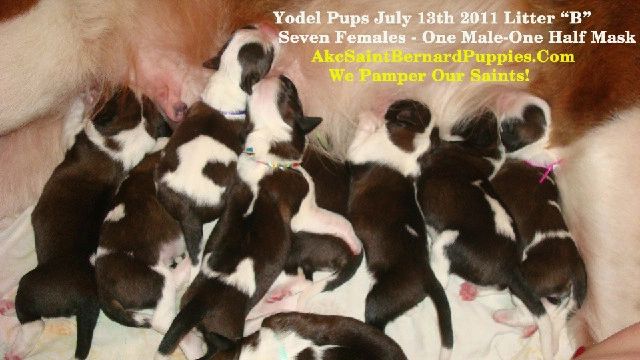 Celebrating
~*~*~*~*~*~*~
Yodel's Litter 2011
We Love Our Akc Saint Bernard Puppies

Yodel will have her litter before moving and soon retiring
in her new home in Michigan :)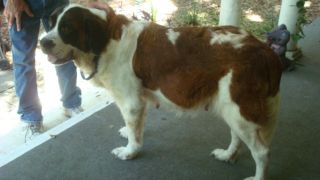 Very Proud Yodel :)
Yodel's 2nd Litter, she will have one more litter and retire.
Yodel, Makes Beautiful Babies - She is such a Beautiful Sweet Girl :)
~*~*~*~*~*~*~*~*~*~*~*~*~

Belinda
Orange Collar
Adopted

Babette
Pink Collar

Adopted


Our Saint Bernard Puppies





Visit the Available Puppies Page

Bambi
Purple Collar

Lives in Pennsylvania

Adopted




Belladonna
Yellow Collar

This beautiful Saint Bernard Puppy
is living in Florida

Adopted



Yes, we do ship pups.
A puppy flight to all states, excluding Hawaii.
Ship Saint Bernard to states all over, to name a few, Michigan, Minnesota, Illinois, Pennsylvania, New York, South Dakota, North Dakota, California, Louisiana and Texas. Colorado, Montana, Nebraska, Georgia. Florida, Oklahoma and South Carolina. If your state is not listed, please just ask.

We hope that you will keep In Touch -
We want to see you all on the "Hug A Saint" Page :)


Bernie

Blue Collar

Saint Bernard Puppy Bernie is
Living In Palm Coast, Florida


Adopted





Blossom

Red Collar
Blossom is Living In Michigan
Adopted


Bethanny
Beautiful Saint Bernard Puppy
Bethanny is now living in Michigan
Green Collar
Adopted
We Pamper Our Saints!

Thank you for visiting us on the web at http://www.akcsaintbernardpuppies.com
Saint Bernard Puppies In Michigan as of October 2011.
We will ship and sometimes can arrange ground transport.
We are going to miss Florida and we are going to love Michigan! We had a wonderful life in Florida but wonderful opportunities awaiting in Michigan :)
UpDate :2016 Moved back to Florida. The North was unbearable for us Southerners.

Thank you for visiting
AkcSaintBernardPuppies.Com
989/ 460-7960





Saint Bernard Puppies for sale will be moving to Florida and having Saint Bernard puppies in Michigan!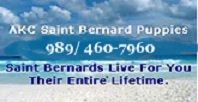 Thank you for visiting

Jackie

989/ 460-7960
We Pamper Our Saints!
AkcSaintBernardPuppies.Com