Akc Saint Bernard Puppies
We Pamper Our Saints

989/ 460-7960
Adoption
What does it mean?

Adoption of our Akc Saint Bernard Puppies.





Adoption is a commitment and love for a lifetime. Adopting is not a transfer of money. It is about wanting the best for our Akc Saint Bernard Puppies. Adoption is a smart choice.

WE WANT FOREVER FOR OUR PUPS


We want "Puppy Parents" that will provide a forever home.

Be the best that you can be for the puppies you love.
Adopting pups, it is not a transfer of money. It is a decision after talking
with you and deciding if I think it is a smart choice.
We want to talk about now and the future with you.
We will answer any questions for you too.

We want you to know we are here for you and your Saint Bernard puppy,
always. We want to be asked to help if you need help.

FOREVER

Adoption is a careful decision based on what I think is best for the puppy.
I want to know that you will love and care for them, forever. We love our puppies and do not forget them when they leave.

We want you to love
and pamper your new Saint Bernard baby forever!!!

Let's make smart choices for the Saint Bernard babies.

Together, we will make sure that the puppy/puppies will be in a suitable home.
We think about all concerned. We talk about puppy needs and the puppy
being a family member. We talk about play time, toys, the past,
love and forever :)

We talk about a Saint Bernard puppy being right for you.

We want great homes for our puppies.
We want you to remember us and send photos :)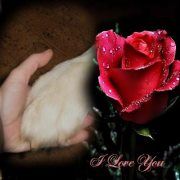 Love For A Lifetime!
An Adoption is a Committment on your part, it is not a quick decision,
it is many years of love and care.


FOREVER

If you are looking for an AKC saint Bernard puppy, please call.
Let's talk! You can see the Saint Bernard Puppies that are available on the Available Puppies Page

FOREVER IS THE ONLY HOMES WE ARE LOOKING FOR,
FOR OUR SAINT BERNARD PUPPIES.





The pups love this toy.
They are available in different sizes and colors.




Thank you,

Jackie

989/460-7960


Saint Bernard Puppies In Florida
AkcSaintBernardPuppies.Com