My life is likely to last 10 - 15 years; any separation from you will be painful for me. Remember that before you buy me.

Give me time to understand what you want from me; don't be impatient, short-tempered, or irritable.

Place your trust in me and I will always trust you back. Respect is earned not given as an inalienable right.

Don't be angry with me for long and don't lock me up as punishment; I am not capable of understanding why. I only know I have been rejected. You have your work, entertainment, and friends, but I only have you.

Talk to me sometimes. Even if I don't understand your words, I do understand your voice and your tone. You only have to look at my tail.

Be aware that however you treat me, I'll never forget it, and if it's cruel, it may affect me forever.

Please don't hit me. I can't hit back, but I can bite and scratch, and I really don't ever want to do that.

Before you scold me for being uncooperative, obstinate, or lazy, ask yourself if something might be bothering me. Perhaps I'm not getting the right foods or I've been out in the sun too long, or my heart is getting old and weak. It may be I am just dog-tired.

Take care of me when I get old. You too will grow old and may also need love, care, comfort, and attention.

Go with me on difficult journeys. Never say, "I can't bear to watch" or "Let it happen in my absence". Everything is easier for me if you are there. Remember, regardless of what you do, I will always love you.

© Stan Rawlinson 1993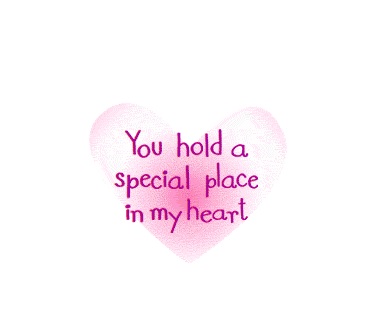 Make A Promise To Never Let Them Down!!!
Be There For Them, As They Are Always There For You!!!

It's Love, It's Devotion and Committment.

Be A Great Owner, Parent and A Great Friend.
You Are The World To Your Saint Bernard!!!

If one day, you find it all too much, caring for a pet, ask for help because there are many people available that will help!!! There are many people that have spent their lives caring, saving animals.

If the day comes that you can no longer care for your pet don't be selfish!!! Do the right thing and give your pet to someone that will love them, care for them, give them what they need, most of all they will give your pet a life.

Don't be selfish and Euthanize a healthy, beautiful animal. Give someone the pet you no longer can keep. Let a pup be loved and cared for. Answer someone else's dream!!!

Don't be cruel and selfish, giving
your pet another home is a wonderful thing.

There is someone that can give your pet a Forever Home.



Don't begin neglectful, don't start caging, starving, depriving your pet of love, exercise and medical attention, ask for help.

Just simply ask for help and be willing to accept it!!!

It's not about you, it is always about the pets best interest!!!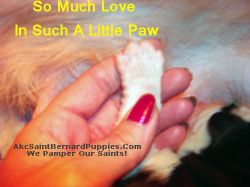 Be a Great Parent and that is to Be Dependable and Responsible.

If you need help, ask for it.


The puppy is always the one's that pay the highest price.

When Saint Bernard's grow up and are no longer cute little puppies,
sometimes they are given up to Shelters, brought to Death Row to be killed
because they were never taught and trained. They may make a mess and someone would have to clean it up, oh no!!!

They need to eat appropriate amounts of food. They need their supplements and exercise. They also thrive on touch, love and play.
They need to be taught and socialized.

They need a dry, clean home with fresh water. They need to be treated for fleas and must have all monthy meds to keep them healthy and free from disease. They must be loved and loved and loved.
Care for your pets and if you can't call someone to help you!!!

People are not going to judge you.

For us, it is all about the well-being of the dog!!!


Give Your Saint Bernard Puppy Your Best
As
They Have Given Nothing Less To You!!!