Shipping Puppies
Flying Puppies - It is safer then you might think.
Security is 24/7, now. There is not much taking place that is not recorded.
I believe and facts have proven that flying is safer than highway travel. Of course, accidents can happen. Accidents happen everyday with every mode of transportation.
I usually fly with Delta and book direct flights. I do call and get a list of flight options before I call you, my puppy parent. I will inform you of all available flights and then let you choose the best option.
I will be taking your puppy to the airport or Ryan. Most of you know of Ryan. He loves the pups and cares for them incredibly. He is who I put trust in and he is very deserving of that.
Shipping A Puppy - Where Will My Baby Be
Your baby is put on the plane and he/she will be in a temperature controlled, pressurized area. The pups are comfortable just as the passengers. They are safe in their airline approved travel crate.

We Pamper Our Saints!
If I did not feel it was safe, trust me, it would not be happening.
Remember, people that are happy with experiences are less likely to sit and a review. It is the mad people that make the time to complain. Some people can find a problem with everything and everyone looking for a problem will probably find something to complain about. Also, some people are never happy no matter the circumstances. Others, they will make something out of nothing in the belief they may get some kind of compensation. Many times undeserving they will. Be cautious to believe what you read from strangers. You do not know the motive behind the allegations.
After arriving at the airport, we fill out all the paperwork and weigh in. We check the bowls and kiss the babies. It is hard to say goodbye and there are tears, every time. We really love them completely.
We freeze water in the bowl for two days to make solid hard ice. This is in hopes that there is water the entire trip. The puppies as with any travel will go to sleep once they reach the desired altitude and it is quiet.
We use the plastic airline approved travel crates. They work best for the pups and the best for me. They are airline approved, plastic, these airline crates can also serve you on any type of travel. We do use additional zip ties to secure all sides and the door. We do ask that if these zip ties are removed that you do report this to the desk and have it documented.
Our pups fly on direct flights. If we must get a connecting flight it will only be because there is no choice. If that is the case additional food and water will be made available and attached to your puppy's airline approved travel crate.


Read over the website for more information and fun pictures.
www.AkcSaintBernardPuppies.Com


Shipping pups takes time and planning. Once we get the the paperwork it is usually smooth sailing, so to speak. First, the pups must be taken to the vet just before shipping to get an additional exam for the flight clearance. Puppies cannot fly without this. This paper work is good for 10 days. Once we have this paper in our hand with the written weather acclimation approval letter it is only then that we can call to book a flight. Nothing can happen without the paperwork.
We only want to ship our AKC Saint Bernard Puppies on direct flights. We have shipped our pup all over the United States and have been successful with our direct flight. We prefer to wait than to deal with connecting flights.
We will tape food and water on the crates. This is available for flights that can be delayed due to weather conditions. The pups, however, are still waiting inside the Cargo building. They are not in the plane or outside waiting in the heat or the cold.
Our Puppy Parents have options to get puppy home
All travel related expenses are the puppy parents.
1) One can fly to Florida and then rent a car to travel home with a pup. Puppy parents love this option the most. It is vacation time in Florida, year round. I would recommend getting an approved airline travel crate. I can arrange to have that here for you. It is safer to have a pup in a crate than crawling freely in a car.
2) One can have a flight puppy Nanny travel with your pup to your destination. (A Nanny is someone that is traveling with pet. The Nanny will be in the main compare of the plane and pup will be in the Cargo area.)
(Two tickets would be purchased for this companion travel)
3) Your pups flies alone and you pick up at the airport. (Most common way that we transport)
SHIPPING PUPPIES CARGO - THE MOST PRECIOUS CARGO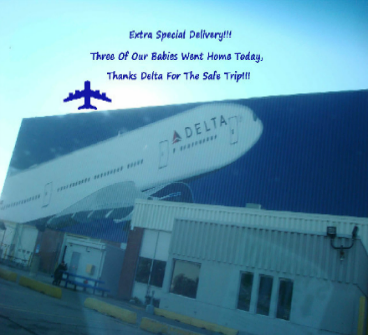 Shipping Cost is $495, we call that $500. This price is subject to change based on airline fees with is correlated to the price of gas. Also if you are shipping more than one puppy.
Sharing an Air Bill will drop the cost, also. (When one or more pups are flying to the same airport)
The fee to fly includes but is not limited to a new travel shipping crate, an additional health check for flight clearance. Acclimation documentation from the Veterinarian, transportation to the airport and the flight fees) We use extra materials such as the zip ties, nuts and bolts after removing the original hardware, tape, blanket etc. We do not charge for this but I am letting you know to explain the process. It takes planning and time. We usually bring 2-4 pups at a time to the airport.
OUR GOAL IS TO MAKE
THIS IS CONVENIENT AND EASY FOR ALL AND YOUR PUPPY.
We may be able to arrange ground shipping for you. We do know people that do this for us. It is not always available but if you are interested, please, don't hesitate to ask. We will help when we can.
Check our Saint Bernard Puppies on the website the Akc Saint Bernard Puppies, available here.
We do our best to accommodate your wishes when making the flight arrangements. There is nothing that is going to take place without your approval. As stated above, I only want direct flights and will postpone flight in order to get desired flight.
As you all know, it is only when I have the paperwork from the doctor that I can book flights. The paperwork is what allows us to fly. It also, once again, expires in 10 days and then I start over with the Vet for flight clearance.
I will be coming home from the Veterinarian and the next day I will be listing the flights for approval.
*We will discuss the options and make a plan.
*The itinerary will be emailed to you. Print this and as with everything, take a picture and you will now have it in your phone. This is an exciting time and now, you will not forget it :)
*I ask that you call the Cargo Dept of the airport, TWICE and ask the directions. You must get the same answer from two different people.
*The Cargo Shipping Building is NOT the main airline terminal.
It is necessary
That you have the address and phone number in your phone.
You are also able to download and app and watch the plane as it flies the friendly skies. This will keep you in the know of the flight time and if there is a change in arrival time.



*************************************************
You must present your Drivers License or Valid I.D. Card to prove you are the owner of the puppy. They will not release the puppy if your name does not match the paperwork.
************************************************
************************************************
You must present your Drivers License or Valid I.D. Card to prove you are the owner of the puppy. They will not release the puppy if your name does not match the paperwork.
************************************************
Bring Evaporated Milk with you, if you like or use when you get home. I suggest you bring fresh bottles of water.
I ask that you put your baby on the concrete parking lot for a potty and avoid the grassy area. Everyone goes to the grass.
Your puppy has not completed the vaccination schedule and it is best to always think ahead :)
As always, we thank you for your understanding and appreciate you loving our pups.


Enjoy your precious puppies for a lifetime.

Check our website for all information and fun pictures.
www.AkcSaintBernardPuppies.Com