Southern Glow Saints

We Pamper Our Saints!

Contact: Jackie

989/ 460-7960
Nina lives in Melbourne Florida with her loving Mom and Dad, Gabrielle and Thomas.
I awoke to find this article and a beautiful letter thanking me for Nina.
Nina is a Yodel and Landscape puppy.
Here is Nina and her Sister Katie, Nina had
nestled her head
against
Katie's
neck.
Sweet Beloved Sisters :)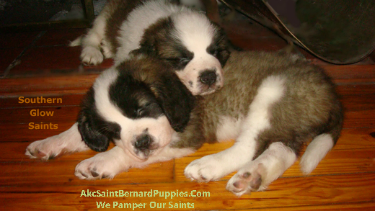 Nina and Katie - Such Love!!!
Nina is a Beautiful Saint :)
Nina, You Are Stunning!!!
Nina Featured In The News



Nina goes to Doggie Daycare and plays

when Mom and Dad work. Mom and Dad

know that it is so important for her overall

well being.

Nina gets her exercise and

socializes with many friends.

Gabrielle wrote, "Nina

loves daycare and is always exhausted when we pick her up."

"I just wanted to drop a note and check in. It looks like you have your hands full with the new litters. My husband still talks about how large Landscape is. He had never seen a dog that big before. Anyhow, have a happy holiday and thanks for Nina - we love her very much."

Gabrielle, thank you!!! We love that you have provided this outlet for Nina :) It sounds great :) Fun, play and massages too!!! I wanna go :)

Thank you so much for allowing me to share your beautiful Nina,
the article :) and your kind words.

This is fabulous!!!




Call for update and available.
AKC SAINT BERNARD PUPPIES
http://www.AkcSaintBernardPuppies.Com

Jackie 989/460-7960
Thank you for visiting the Saint Bernard Puppies!!!