http://www.AkcSaintBernardPuppies.Com
AKC Saint Bernard Puppies




989/ 460-7960
Happy,

How Many More Puppies Are You Going To Have ???


On November 11, 2012

Happy went into Labor and she delivered 16
Healthy, Beautiful Saint Bernard Puppies.

Happy's Litter Ties With The Second Largest Litter Of Saint Bernard Puppies Born And Recorded In History.



Happy gave birth to 16, Oh Happy!!!
We Believe This Is Something To Celebrate!!!
We Thank You For All The Love :)
To us, Happy, has always been famous.
We think Happy and Landscape planned this in order to compete with Yodel's "Hero status"!!!
Happy and her Saints!!!
An article written by Bill Petzold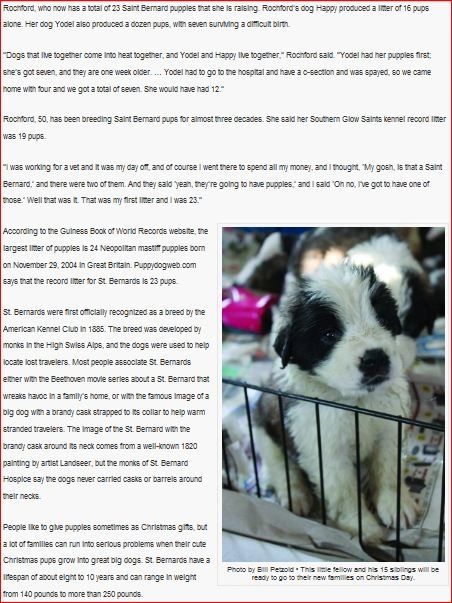 Here is a wonderful picture of Bill and Happy!!!
Bill, We All Thank you and The Tuscola County Advisor
For Sharing Our Happy's Story!!!
Thank you for reading about us and our Record Litter of Saint Bernard Puppies!!!


Check here for up to date puppy page
Please, call for updates.

Jackie 989/ 460-7960
http://www.AkcSaintBernardPuppies.Com
saint bernard puppies
AKC Saint Bernards and AKC Saint Bernard Puppies