Bringing Home Your New Saint Bernard Puppy


I am sorry but I have messed up this page and do not know how to fix it.


Instructions/Information For Home
(Please, call me if you need anything)
Healthy and Happy Saint Bernard Puppies


My babies leave one by one. It is so hard and sad to see them go. There comes a time when they need families of their own to love and families that will love them. I know they need to have their own little boy or girl, many children and or their own adults.
I see the love and happiness when the pups leave and I can't ask for more!!! I get letters and phone calls telling me how great the pups are and thanking me for such a wonderful Saint Bernard puppy.
(Thank you all for loving your babies. It means everything to me to know they are loved and safe. I like to know in my heart they will continue to be loved, as I love them all so very much)
We are so lucky to have Saints in our lives


Here are a few things that might help along the way :)
Before you pick up your Saint, pick up the food and the food you will switch to, if desired. Order the NuVet, samples are limited for me to send and they need to stay on it. Get your Crate and all supplies!
I know it is so exciting bringing your new baby Saint home, however, please remember everything is new. They don't know where they are going. They are leaving everything and everyone that they know. As exciting as it is, please, remember that you do have a baby.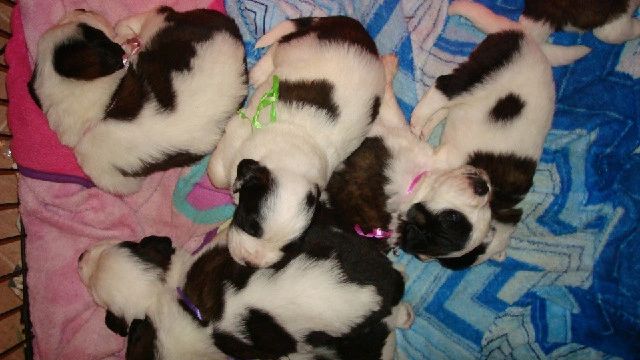 The pups leave us and move to a new home. This is the greatest change in your pups' life thus far. This will be the first time the puppy has been away from the companionship of their littermates. This is a very important time for your puppy and it can be a scary, lonely time too. You will find this is true especially at night while everyone in your home is sleeping. When you do your shopping get a small clock radio. They like the music :)

Your puppy is a baby!!!

Growing puppies play like crazy and they sometimes sleep very deep.
They are growing. They are learning and investigating all day.
These little "sponges" are soaking up so much and those little bodies are working hard growing into big dogs. Calories are being burned up and energy is being expelled. Do not be alarmed if your puppy falls asleep in your arms. They are like human babies in as much as they require the rest. Puppies can not keep up with us. Puppies will get sick if they are not allowed to rest. Please, let your baby nap. Crates, that a little hide away of their own.


Your Saint Bernard puppy will need plenty of love to come through these early days and adapt to his new home and lifestyle. I find it the easiest for them when there are children and or other animals in the home. We do not want too many pet in the new home. If he/she will be the only pet, provide a television, radio, toys, and chewies for them. I have been constantly with them since birth. I talk to them, play, pet, brush and hold them. They are going to always love your attention :)

This is when you start using the puppy play pen area and the crate.
The Crate will be his/her own quiet safe place.
The crate is never to be used to punish and never leave puppy long.

Please, do not lock your puppy in a crate all day. Invest in a play area when you are away for long periods of time. If you are not going to get a play pen than, please, carefully inspect the space that you will have for your Saint Bernard puppy.



I strongly urge Saint Bernard owners to establish a relationship with a "Mobile Vet". Usually there is a charge for coming to your home and usually not more than $50.00, that is the average. It will never hurt to have someone available that can come to you.

You are in charge. Unless, you want to buy "stuff" and do your shopping at the Vet's then don't. Don't get saddled with special diets and hundreds of dollars worth of speciality foods, lotions, Potions and Powders!!! If you want all that great but don't buy if you feel pushed into it.

Most owners are doing their shopping online and pet supermarkets.




Is best to stay away from dogs that are unknown to you and not to visit too much. Always hold your Saint Bernard puppy and with both hands...they can wiggle out and over!!! Make sure that your friends pets have all be vaccinated and are up to date. It never hurts to ask. It is always smart to be careful.

Adults dogs, need boosters each year.

*** With all that Said, this is the most important time to socialize. Great, now you ask yourself, how am I to do one without doing the other? This information is to make you aware. It is not to scare you, it is to make you think about where you bring your pup. It's about asking friends about their dogs which once we would never think of doing. It's about keeping your puppy safe.

Socialization

The socialization period for dogs is between 4 and 12 weeks of age. During that time, the puppy is very impressionable to social influences. If he has good experiences with men, women, children, cats, other dogs, etc., it is likely to accept them throughout life. If the experiences are absent or unpleasant, he may become apprehensive or adverse to any of them. During the period of socialization, expose your dog to as many types of social events and influences as possible. Bad exposure will happen unless you are very very diligent. People can be unpredictable. They can do some very odd things and not all people are kind and loving to a puppy.

Radio, Television, (I use both and the pups have been listening to music since before birth. I also have a radio and television in pup quarters) Vacuum (turn it on because it is there, not right next to the pup)!, Garbage Disposal (use it even if you don't need to)! Dishwasher, Pots and Pans, Hair Dryer (set a timer to remind you to turn off), Baking timers, set on because you can!.............do not scare the pup by banging pots and pans....................it is the exposure we are working on. Coke Bottles are great toys because of the noise. Do not try to keep the area extra quiet during the day. The puppies need to get used to normal household noises. Children should be allowed to play as children behave differently than adults. Everything the puppy is exposed to now, will help become a well-socialized, unafraid adult.

The puppies should be handled several times a day. They can be picked up, their teeth looked at, ears touched, toes played with and have anything that may be done as an adult. Get started :) Play helps to develop the puppy's mind, as he/she needs to find solutions to problems they encounters. They are really great at solving the issues at hand too. There are so many great toys for puppies to learn !!!


You want a pup that has many experiences to all sources with all their senses :) Hide and Seek, I love the game with the pups :)

What your Breeder and you do during the first weeks of life will leave a great impression on your pup. You know you get a happy puppy when you get one from me.


What you do will last a lifetime.



Thank you for visiting us
Jackie


LARGE BREED PUPPY

Diamond Naturals and Royal Canin



For Royal Canin, get the Maxi or Giant, the Saint or the German Shepard as they are both Large Breed.


There are many high quality dog foods out there. I will be providing packages of food to take home for your puppy if available. If you would like to change brands, start mixing slowly.

The best way to introduce new food is to get two bags. One that the pup is eating now (Royal Canin or Diamond Naturals Large Breed Puppy Formula)
and the one that you would like to switch to.

Diamond Naturals is not the most expensive, however, it is a Four Star Dry Dog Food. My pups thrive on it and it is Soy,Wheat and Corn free.

Get a Premium Food, Happy, she loves Royal Canin, Katie - Katie - Katie loves Diamond Naturals and Eukanuba. Yodel loves Diamond Naturals and Landscape, well, he like what everyone likes :)

Changing and Mixing New Food
Introduce the new food slowly by mixing with the new food. I always leave dry food out, it is up to you.

One thing is agreed on - don't leave the wet food out because it will spoil.

While your puppy is growing, please make sure to use the puppy food for large breeds. This is imperative for your Saint Bernard to a healthy puppy. Do not continue to change food. You may like to eat differently but staying with one brand is what is best for your puppy and dog. If you want a topper that is fine.

I like Diamond because it is Corn, Soy and Wheat Free. Be sure to get the formula for Large Breed Puppies.

There are many choices of dog foods.
What should I feed my puppy?

Diet is extremely important in the growing months of a dog's life, and there are two important criteria that should be met in selecting food for your puppy.
1) use a NAME-BRAND FOOD made by a national dog food company (not a generic or local brand). Saving money when it comes to food, will only cause harm and sickness.

2) use MADE FOR LARGE BREED PUPPIES.


It is not better just because it cost more!!!
AND cheaper is not cost effective.
You will pay later in Vet bills
and or
shorten your dogs life if you use cheap stuff.


The pups system will show you how they are tolerating the food!!!


Top FOUR Food Allergens
An allergen is any substance that can cause an allergy.

Corn, Soy, Wheat and Yeast

CORN

Corn Studies have shown that it is not actually the Corn itself that Canines are allergic to.

Canines are being exposed to and eating all of the possible unknown contaminates that are in corn for various reasons. This would include, insects, mites and mold. Depending on where the food is being stored, how it is stored and for how long. My advice, stay away from corn.

A recent study of atopic dermatitis conducted at Wright State University has concluded, "storage mite sensitivity in dogs may be as important, if not more important, than dust mite sensitivity".

1. Arlian AG et al, Serum immunoglobulin E against storage mites in dogs with atopic dermatitis, American Journal of Veterinary Research, 2003 January, 64 (1):32-6


Should I mix Can Food With The Dry Food?
Your decision is going to last a lifetime....think about it!!!

Feeding a canned, or semi-moist form of dog food mixed with dry food is acceptable. Each has advantages and disadvantages. Dry food is definitely less expensive. It is the most convenient and it does not allow for disappointment at meal time. It can be left in the dog's bowl without spoiling. As a rule, most veterinarians will recommend dry food for your puppy.
Dog Food Dressing
Semi-moist and canned foods are also acceptable for a topical dressing. They often are more appealing to the dog's taste, but they are not more nutritious. If you feed a canned food, you are running the risk of creating a dog with a finicky appetite. In addition, the semi-moist foods are high in sugar.
Yodel is a finicky eater and does not want to eat only dry. I use Pedigree for a dry food "dressing" because it is always available. I have never been without because it is everywhere that I go.
A dressing is fine when Yodel is home and we are together, however, when other people are to be depended on they will do thing differently. Then, I have an unhappy Yodel. Also, since I have started using wet canned food, I must always give it to her because she does not not enjoy her food without it. In fact, she does not want her dry food without it. This could be a problem and it is important to think in terms of long term.

All my girls and boys eat some wet food. they enjoy the extra!!!
It is difficult to give to one and not the others. Right is right and fair is fair. Think about it before you make this decision. It's going to last a long time!!!

The big boy, he gets the least, just enough not to feel left out. He will gain weight too fast and does not need to.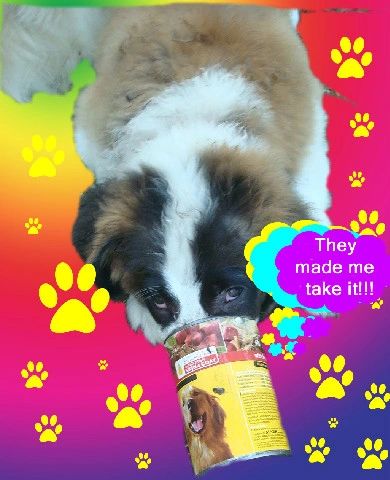 Canned food, is used as a dog food dressing only.


Table food is not recommended. They are generally very tasty, dogs will often begin to hold out for these and not eat their well-balanced dog food. If you choose to give your puppy table food, be sure that at least 90% of his diet is good quality premium commercial puppy food. If you provide it, mix it well in their food. If you don't all the table food will be gone and dry food will be there.
AAFCO
Association of American Feed Control Officials

To ensure a puppy food is nutritionally complete and balanced, the Association of American Feed Control Officials has established a special nutrient profile optimized for growing dogs.
This AAFCO profile details at least 37 nutrients that must be present in a puppy food which is including…
10 amino acids
12 minerals
11 vitamins
To save time, look for the AAFCO nutritional adequacy statement on packages of dog food and you will have the nutritional balance.
This stamp assures buyers a product meets nutritional requirements for growing puppies…
Growth
All life stages
Growth and maintenance
Search the bag for the AADCO label AADCO.


Things just got a whole lot easier with that information.
Food is so important and better to start right and stay on the right track for a lifetime. It will save you from illness and Vet bills later!!!

Good Nutrition Can Not Be Sacrificed
Pay later if you save now!!!
Humans enjoy a variety of things to eat in our diet. Most dogs actually prefer not to change from one food to another unless they are trained to do so by the way you feed them. Do not feel guilty if your dog is happy to just eat one food day after day, week after week.
Dry food is always available and it always stays the same!!!
How often should I feed my puppy?
There are several ways to feed puppies. The most popular method is commonly called meal feeding. This means that the puppy is fed at specific times of the day, everyday.

A measured amount of food should be offered four - five times per day for 5-12 week old puppies. What is not eaten within 30 minutes is taken up.

If the food is eaten within 3-4 minutes, the quantity is probably not sufficient. Puppies fed in this manner generally begin to cut themselves out of one of those meals by 3-4 months of age and perhaps another one later.

If a certain meal time is ignored for several days, it should be discontinued.
Your pup is letting you know what he/she wants.
Free choice feeding. This means that food is available at all times. This works well with dry foods and for some dogs. Vet's will tell some not to do this. All dogs are not the same. They are stuck on telling the same thing day after day about food. Trust me, I am the Saint Bernard person. Saint Bernards do not overeat. If you do not feed your Saint a good food with proper nutrients then you will have problems. I leave food out always because, I never want anyone hungry. It's what I feel good about and what works best for us.

Vitamins. We recommend that you use NuVet.
You can find them on the NuVet Page.



NuJoint and NuVet
1-800/474-7044
Use Code # 81909

Read more about puppy food


After Pups Eat, They Are Tired And Want To Sleep
It is necessary for the pups to sleep after eating. They are growing and there bodies are working hard. Please also see play and exercise page.

Your Saint Bernard is a baby!!! Please, allow for your baby to sleep just as a newborn human baby would need to sleep :)

Let them rest, young or Senior about 15 - 30 minutes after eating. Give food time before any rough play!!!


Do Not Wash Your Pup
If there is a chance of getting a chill.



We of course recommend NuVet Tearless Shampoo........it is fabulous!!!

Paper Training


Your puppy may be potty trained to go outside when you get him or her. That depends on the weather and how many puppies that I have.

Your puppy will be going to your home paper trained. Since moving is stressful do not expect perfection. Please, allow time to get use to their home and learn where their paper will be. Choose where there paper area will be and keep it there. After cleaning, leave a scent mark, a little paper that is soiled for them to have a scent and know this is the bathroom. Make a scent area outside too.

Some like to use "puppy pads", so that has been included in the list on bottom of page :) When deciding on using puppy pads, it might be a good idea to use some paper on top as well. These puppies have been sleeping on material and when it has been potty time for them, they are use to the paper.


When in the home and or when training - I take out once per 45 minutes or everytime that I get up. About 10 - 15 minutes after meal time. People are here during the day so it might be different for you :)


When you see them start to go toward paper, this is when you can pick them up and go outside. Every time you take them outside, repeat the word outside many times and praise him/her :)

Your baby may potty on the paper and then lay down. Here again, the wipes come in handy.

I recommend having a bottle of Apple Cider Vinegar close by to blot any urine messes. Vinegar will neutralize the smell.


Your Lawn
Puppy is coming home and we live in a state with a drought. That means limited water which leads to ANTS!!! Treat the lawn using a water hose to make it safer. Soap and water on Ant Piles, watch the pup until you know all has been taken care off.

I recommend washing the lawn with soap and water, that is what I do. Also, a light mixture of Clorox and water is great too. So light that there is no odor of Clorox. It all dries up, washes away and baby is not eating anything. We just want to sterilize and keep it fresh and clean :) This will help with the Florida sand fleas also :)


If you have a "stinky", pick it up and bag it!

For now, wash the lawns and keep baby clean with the wipes :)

I am not a licensed Vet, so I am not permitted to provide medical advise. What I do is always have Benadryl taped to the inside of the medicine cabinet for anyone that needs it. Just smart for people and pets.

This is great for bites from bees or wasp, it is used to treat allergic reactions. Ask your vet about it, I never leave home without it, keep it in all cars for people and animals :) Once again, information about Benadryl is not intended to be medical advice, just general information. Please, check with your Vet.


Taking your pup outside to play and get fresh air.

This is a new experience and also can be a fearful one. Make sure there are not other dogs close that will come charging at your puppy!!! The happens more than I care to know. Even though fences separate them it is frightening to the pup! It's frightening to me too!!!

Also, when they start to cry and whin like something is terribly wrong. It is most often because they are hot!!! The want to go back in with the A/C, relax in the cool air and have a nice cool drink of fresh water.
You have yourself a smart pup and they are going to tell you what they want. It's up to you to know the new language :)

Fleas

Fleas do not stay on your puppy all of the time. Fleas will seek and other hosts too. It's Spring time, warm time, play time and it happens !!!
Many of the flea control products that are safe on adult dogs are not safe for puppies less than four months of age. Be sure that any flea product you use is labeled safe for puppies. Remember, not all insecticides that can be used on adult dogs are not always safe for puppies. Check with your Vet.
There are three products that are given only once per month; both can be used in puppies as young as 6 weeks. AdvantageTM and FrontlineTM Plus are monthly products that kill adult fleas. These are liquids that are applied to the skin at the base of the neck. They are very effective. We use NexGuard also.
Please, speak with your Vet about the best as
(I am not a DVM and can not provide medical advice, I can only inform)

Flea Preventative
Comfortis! There is also Trifortis and it treats Heartworm, worms and fleas!!! I am not in favor of Trifortis, I have no explanation for that. I love Comfortis and the Boys and Girls do too. That I can say!!!
It is our favorite and the dogs favorite too. It is a chewable and it will kill fleas in less than thirty minutes. One month of protection!!! Remember, if they don't want it
Peanut Butter help solve almost everything in our home (just spear a little on the tablet :)

*CAUTION* Never give too much peanut butter at once. Unless you sit with a glass of water with your pet :)
Too much peanut butter can be hazardous. It's very thick and that is dangerous so just coat the pill.
Never leave your pet at any age when using Peanut Butter.

When you are at picnics, if you have Peanut Butter Sandwiches guard them. Canines have stolen them and take off running with them. The can not swollow the Peanut Butter Sandwich and they chock. Be careful. I will only put it on my finger or on a dog treat or spoon.


My puppy seems to be constantly chewing, what do I do?
Give them something they would like to chew more than what they are chewing. Sometimes changes are good!!!

One of the characteristics of puppies is chewing. Puppies are trying their new teeth and chewing everything, including your fingers and feet is a normal behavior. The puppy's baby teeth are here before you know it. They begin to fall out at four months of age and are replaced by the adult (permanent) teeth by about six months of age. The bad news is you can expect this until about 6-7 months of age. Provide Chew toys and many of them!!!

Give your puppy something they would prefer to chew. It's about alternatives, your job is to find a better chewy :)
If I were a puppy, I would love a beefy tasting chewy, it would be better than a shoe and that goes for everyone involved :)

There are also products that are made to help !!!



Toe nails, are they scratching you? I would have never guessed :)

Don't get mad, get happy, oh wait, I have Happy :)
If you are comfortable cutting nails than do what you are comfortable doing. If not go to your groomer or the Vet's office. Also, I like the files for the pups, they are easy to use and most feel more comfortable filing. A daily walk on a sidewalk will do the trick. Most Saint Bernards, do not mind if you clip their nails. Mine all sleep while I cut nails. I use a flashlight on the black toenails so I can see the danger zone from underneath. They have big feet, have you noticed ha-ha :)

Have this product on hand... It is styptic powder it stops bleeding when and if you cut too close. The Nail file is best to prevent this from happening. the very best solution if you do not feel comfortable is the Vet or Groomer.

Grooming
You will get a heavy shed when he/she changes over to adult coat about 7-9 months. The Saint Bernard will shed twice a year - spring and fall. I use a vaccum to suck the hair off of them, just as I would a brush.
We have several brushes and we sit on the floor alot..

I massage the dogs regularly and I also brush almost daily. You can brush as often as you like :) We just do it because it is "love time" in our house. When you begin brushing, say the word B R U SHHH. Kinda, like that. Brush feels nice, do you love your Brush ? :) They then learn and know the word :)
After a bath, say, do you want your TOWEL? The Towel feels good, we love the towel, where is your towel? Soon your pup is going to know everything :)


Exercise
Saints need regular exercise to keep fit. A walk around the block in the morning and night is great. They need to socialize too with other animals and people!!! Every puppy grows and puppies have "fear stages" see the Parent's download page for document on that and many other importantsubjects.






If you want your Saint to be a swimmer, start in the bathtub. They love to swim, this is one of the best exercise and fun for you too. Of course, don't forget the beloved Soccer ball and Tennis balls.

****** Swimming Pool Safety ******

Protect your puppy from the swimming pool !!!
Get a pool gate and block off the pool area.



Training
Be firm and be gentle, you don't want to scare your puppy. It is easy to believe that your Saint is older than he/she is because they are so big but they are only babies. These babies are just beginning to learn about the world. Protect them and give them time to learn, Saints are very smart and will learn quickly. I started teaching names very early if owners have picked out names. I begin training at 7 weeks. Make if fun and your little new "sponge" will soak it in so easily.

Can I discipline a puppy?
Disciplining a young puppy may be necessary if his behavior threatens people or property, but harsh punishment should be avoided. Hand clapping and using shaker cans (a can with a few coins that rattle) and a clicker can be intimidating enough to inhibit undesirable behavior, though remote punishment is preferred. Remote punishment consists of using something that appears unconnected to the punisher to stop the problem behavior. Examples include using water spray bottles, throwing objects in the direction of the puppy to startle (but never hit). Remote punishment is preferred because the puppy associates punishment with the undesirable act and not with you.
Please, watch children as they are most likely to hit the puppy. That is until children are taught that hitting is not acceptable.

Obedience Training
Please, do not go until your puppy has had all of their shots. Include a Kennel Cough shot if you are planning to board also.

This pup will be a big dog very soon and my advise is not to get a pup, if you do not have the time to train. That is with all due respect.

Training does not mean, you must take the pup to school, although that is great for you and your pet. I certainly advise that you do. I think you will be extremely regretful if you don't go. This means, you needs to have and take the time to train the pup. If you do not, you and your full grown dog might find situations very difficult.

This is a big dog and a big responsibility!!!


Many Trainers will come to homes if you are unable. Videos are available online and in stores. Books still work and everything is on the computer. Now, computer will read to you so, do a search and start today. These are amazing animals that love to make you happy!!! When your pup learns they are happy to make you happy and you will be happier. Give them all you have.


Happy and Yodel resting after play time.

They are on stairs!!!
Big Dogs can get out of the pool when there is a way that they know it . When pups fall in they usually drown!!!
One thing is almost guarenteed if there is a mishap the pup might not ever like the pool.

I think for a Saint being left out of the pool fun is a huge loss for them and the owners.

Please, get the pool guards, alarms or pool fences.

Hips
This is a condition affecting the hips, basically "badly formed joints". It is genetic, and also will be caused from environmental and/or nutritional factors. Don't over exercise your puppy, do not let them jump off and on bed, in and out of cars. Limit the crazy, wild behavior. Walk your dog and let them run and develop. Their joints are developing. Give your pup a carpet and be careful on tile and wood surfaces. DO not push down on your pet and do not let children sit or ride the puppy. Always feed premium Large Breed Formula Puppy and Dog food. You want to feed your pup all they want to eat. They need the good nourishment to develop and grow just as children. Its about growth and boy are they ever growing.

It is recommended that you use NuJoint...don't wait for problems,
prevent them!!!

NuJoint and NuVet
1-800/474-7044
Use Code # 81909 for the Discount with autoship!!!

Do not let anyone hold your puppy that might drop it!!!

Please read more about Hip Dysplasia on this additional page concerning the importance on supplements and quality foods.


Gastric Dilatation Volvulus - (BLOAT)
GASTRIC DILATATION VOLVULUS - GDV - is the turning over of the stomach. Never feed your dog before or after exercise. This is just that simple! Don't risk it all the rough stuff before or after meal time :)




Why should I have my female dog spayed?
Spaying offers many advantages. The female's heat periods result in about 2-3 weeks of vaginal bleeding. This can be quite annoying if your dog is kept indoors. Male dogs are attracted from blocks away and, in fact, seem to come out of the woodwork. They seem to go over, around, and through many doors or fences. Male dogs that want the female will bark until they don't can't make a sound. Before that though, you will not get a seconds peace and no one will sleep.Y
Spaying is the removal of the uterus and the ovaries. Heat periods will no longer occur. In many cases, despite your best efforts, the female will become pregnant; spaying prevents unplanned litters of puppies.
It has been proven that as the female dog gets older, there is a significant incidence of breast cancer and uterine infections if she has not been spayed. Spaying before she has any heat periods will virtually eliminate the chance of either. Mammary cancer - Spaying female dogs before their first heat cycle will nearly eliminate the risk.
Intact (un-spayed) dogs will have seven times greater chance of developing mammary cancer.
So don't delay having your puppy spayed.

Why should I have my male dog neutered?
Neutering offers many advantages. Male dogs are attracted to a female dog in heat and will climb over or go through fences to find her. Male dogs are more aggressive and more likely to fight, especially with other male dogs. As dogs age, the prostate gland frequently enlarges and causes difficulty urinating and defecating. Neutering will solve, or greatly help, all of these problems that come with owning a male dog.

Talk to your Vet about all your spay and neuter concerns.


Thank you, for being concerned about the well being of your AKC Saint Bernard Puppy. They are pampered here and we trust you keep that going!

The investment you have made will be returned to you countless times over :)


Beautiful Happy!!!

Thank you all, all of you that have chosen our pups, cared for our babies throughout their lives and have loved them immeasurably.

Your puppy "must haves" list consist of what you want to have because if you don't, you are going to wish that you did :)





Choose This Type Of Puppy Gate



Caution
Do Not Use This Type Of Gate

Puppies have been gotten caught and have strangled in these gates!!!
Crate
Play Pen
Puppy Pads
(optional)
Puppy Wipes
Paper Towels
Toilet Paper
Vinegar
(for carpet)
Pooper
Scooper
and bags
Plastic Shower Curtain
This is protection if paper and puppy will be on carpet
and
Newspaper
Food Container with Scoop. It's easier.
Fingernail File/ clipper both

styptic powder

(stop toe nail bleeding)

Clorox (diluted)
Pups are sensitive to these chemicals
Move pup to another area with fresh air when using.
Bowls - elavated bowls.
Are not recommended as your Saint will probably lay down
when eating.
Brushes
(long bristles)

Also a comb, the Monks comb 2x's a year :) The combs are good for fleas.

I personally use a cotton ball with Alcohol to catch a random flea.
Grooming Supplies

Medical Kit
and
Flea Control
Dog ID Tag!
&
Collar (as he/she grown, you will need to in order to snap together)

Many Leases
A hook for your lease
Toys & Chewies


One Soccer Ball for Dogs :)

Of course, you all knew I would have Peanut Butter listed :)
Questions? Please, call me,
989/460-7960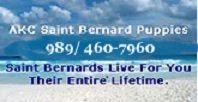 Thank You,

Jackie


We pamper and love our AKC Saint Bernard Puppies

The endof page
xxxxxxxxxxxxxxxxxxxxxxxxxxxxxxxxxxxxxxxxxxxxxxxxxxx