| | |
| --- | --- |
| | We Love Our Saint Bernard Puppies! |
AKC Saint Bernards and AKC Saint Bernard Puppies


This is our opening page for "Bringing Baby Home". Here on my site, http://www.AkcSaintBernardPuppies.com One will find many, many pages
full of information. I have tried to answer the questions most asked.

Some of you may read and use the info.
One thing is certain and that is if you want the info than I hope you find it here.

I have tried to cover all the ground and some individuals want more info.
It appears to be working for everyone.
If there is something that you would like to know more about, please,
just write to me. I will answer any questions that you may have.

Check out all the beautiful leashes and collars. It is a fun time.

I can't wait to see what you all get.

I enjoy the pictures very much.








Thank you for visiting our
AKC SAINT BERNARD DOGS and the
AKC SAINT BERNARD PUPPIES
We feature products from many sites that we like. A few are Amazon, NuVet Labs, Big Dog and Chewy. It is because we order from these companies. Chewy delivers our food and we do love that. We also purchase our toys from Chewy and various other stores. Amazon is one of our favorites. I have to say they all make life so much easier for me and everyone that uses the delivery services. We do not advertise anything that we do not use. We trust the stores and love the items that we list or recommend. We use the affiliate programs and we appreciate the opportunity to be able to show you the things that we purchase and use for our big dogs and puppies.
http://www.AkcSaintBernardPuppies.Com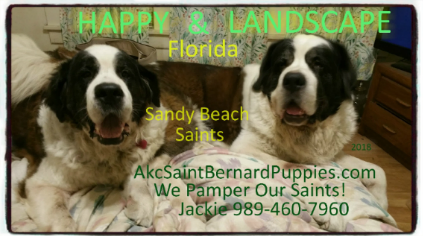 Jackie
989/460-7960
AKC Saint Bernard Puppies