My breeding experience began when I was a young adult. I breed my first
Saint Bernard after being introduced to genetics. Further into my education,
I studied genetics and loved it. I worked for a Vet and learned so much...he
was a fabulous teacher :)

My goal was and still is to make the breed healthier. A healthier breed
is a better breed! Better for the pup and better for the ones that love them.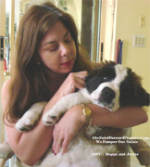 (Jackie and Happy - 2008)
I always will have saints! I honestly believe that "once one has a Saint,
one will always have one." They are an outstanding Canine. My friend, Teresa,
says, "there is only one dog that is deserving of the name Saint" and I do agree :)
My life would not be normal without Saints. Just ask me.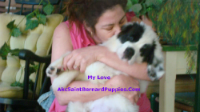 We breed the "Big Dogs", they call the "Gentle Giants." The Saint Bernard
is more than remarkable. So many individuals love these big, fluffy
loving Saints.
It is not hard to understand the Saint Bernards is the perfect family dog.
They are wonderful with all ages.
The good breeders sacrifice so much to produce strong and high quality pets.
Why do we do it? We do it because we love our Saint Bernards
and the pups. There is no way to adequately express why but I feel it every
time we have puppies!
We have so much pleasure and pure joy raising the pups. Feeding every hour, endless nights, sleeping next to the Momma dogs and pups.
We never sleep during the first weeks but cat naps unless we have a babysitter
.
Joey took my picture!!!
When we sleep and we hear a squeak and we spring out of bed. We walk about delirious and our conversations are usually never uninterrupted.
Caring for my babies always comes first :)

We mix puppy mush and bend over to wipe up, all night and day.
We wash constantly and why... we love it!!! At around 4-5 weeks when the pups are
playing and running it's fantastic. These beautiful Saint Bernard puppies are
miracles and it is worth every moment.

When the phone rings and the voice says " I have been looking and finally, I found You",
It's great and worth it! We make dreams come true and what is better than that???
It is not only about getting a puppy. We think so much about the puppy parents. We
provide as much accurate and courteous customer services as possible. We try to answer
any and all questions that you may have. Education, we love it. Getting a puppy is the final stage and getting ready for a puppy is what happens during the 8 weeks of waiting :)
We have downloads that have been written and we teach about training and
puppy behavior. Puppy school is a wonderful thing. I am certainly going to
speak with you about it.

Many of you will be long time lovers of the Saint Bernard. Many of you will be getting
your very first Saint and also the first time puppy. For us, its so much more than getting
a puppy. If it were that alone then you would be going to a pet store.


You can expect more and you get more. Great Breeders that love their pups will try to help
you in any way and will be available. Our individual work begins when we get the puppy questionnaire. We want to know if a Saint Bernard is right for you. We want to get to know you. We then begin our file.
We are here for you and you are welcome to call. This is just the beginning off the long lists of services that we provide. We believe it is so important to get ready for baby. Let us help you get ready to have a long happy life with your new beautiful, healthy Saint Bernard Puppy. Once you get one, I promise that your life will never be the same. IT GETS BETTER!!!
When the Thank You's are heard, it's worth staying up all night! When a fabulous
family leaves here with a glorious puppy and they are happy, how could I ask for more?
Loving homes for our Saint Bernard puppies is the greatest feeling.
When the Saint Bernard puppies leave with new families, we call this the bittersweet
part of breeding, raising and loving. For the individual or individuals that are getting this
new little member of the family, it's the best time. As Breeders that spend time loving,
holding, playing, training and providing socialization for the pups it gets sad too.
There are tears every time!!!
It is wonderful meeting the new families that have chosen for our babies. Each little criteria
that might go into the choice of "which one do I want"? Learning about the puppies after
they are settled in a new happy home, it is always heart warming. Knowing how our babies
are loved makes us happy. We do want them to all have loving homes. I must say again
that we want loving and committed families. We do not want pups given up because life gets complicated. Puppies and dogs should never be given up. They should be your family member. We want you to love your baby for a lifetime and that is how long your Saint Bernard will love you.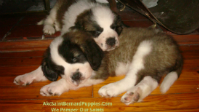 (Katie is the puppy on the bottom)
Loving Homes For All
Happy, Healthy Saint Bernard Puppies and Families
Our Saint Bernard puppies, each one will provide so much love and devotion
to his/her new owner. When our Saint Bernard puppies go to homes, they are wanted
for so many reasons.
They are to be "the new Saint of the house." The Saint Bernard puppies are
sometimes to have that second Saint Bernard. Many times a new puppy is to fill a
void while broken heart heals. Saint Bernard's are for therapy, business, parents
that have lost partners and to fill the "empty nest". Also, of course, the first time
Saint Bernard owner because they have always wanted one.
The pups love this toy.
They are available in different sizes and colors.
When raising puppies the eight weeks brings up to the most critical decisions.
We only want homes filled with love, that believe pets are family. We want homes
that will be loving their puppy for a lifetime. We want to know that your puppy is a family
member.

We want a person and a family that will love a pet and will provide the very best to
them. We want our Saint Bernard puppies to have responsible owners.
We want families that will love completely, have
room and time. Now that's the best. If you cannot do this, please, don't inquire about a puppy.

When families love our puppies we see it and hear it. When we see it and hear it,
we want you to have one of our puppies. The above is the most we could hope for
our babies. Wonderful people and families are what we pray for :)

We provide the best to them before conception and throughout the eight weeks.

We want that for our pups and we strive to get that for them.
They are miracles. If you have previously had a Saint Bernard, than I am only
telling you what you already know. There is no dog that I know of that can compete
with the Saint Bernard!
Once again, if you have had one, you will always have one.

When we breed puppies, we love each of those puppies. These Saint Bernard puppies
come from full grown Saint Bernard dogs that were once our little Saint puppies.
Each time we have puppies means the "Mother Dog that we love is having babies"!
We get excited about planning, the breeding, waiting and watching the girls grow with
the pregnancy.
We touch the tummies to feel the babies move. They are our baby puppies growing
in that tummy.........it is the miracle of birth and Saint Bernard Puppies are miracles.
If you cannot offer a puppy as much as you would a human baby then please, find somewhere else to get your puppy.
I do the very best that I can choosing puppy parents and I have been wrong three times. I do not ever want to suffer the heartache again. I don't ever want less then the best for my puppies.
You know what you have to offer. Please, be honest with me as I will be with you.



All rights reserved. Do not copy these pages.

The Saints

Some of our wonderful pictures. Family that is what they are to us.







Puppy Room
is looking great



Daddy and Daddy





Merry Christmas

Joey's Sensation

We Love You, Happy

Logan

Joey and Yodel

Happy Birthday, Katie
We Love You

One of my favorite pictures

Landscape

New York


Joey's Day




When we were kids




Joey and his boy, Lamdscape.



Jackie and Debbie
Always a blast

What a beautiful surprise.
I love you too

It's all about love

Father's Day



Ten years later
Jackie And Joe



Thank you for reading about the AKC Saint Bernard Puppies and us!

We Pamper Our Saints!!!

Our Pups, They Are Everything You Can Expect In

A Saint and From a Saint!


Thank you for visiting our AkcSaintBernardPuppies at